Hosetowers (or hose towers) are used to manouvre (multiple) hoses from the Jetty or Quay to (oil) tankers for loading and unloading liquids and gasses. A hosetower design consists of a steel construction that contains hoses, one or more telescopic cranes, hydraulic winches, sliding beams and hose buns. The crane hoists the hose on board of the vessel. The winch and sliding beam support the hoses during handling.
ADVANTAGES of hosetowers
Because a hosetower contains multiple hoses it can be used for (un)loading different products (simultaneously). The number of hoses can be adjusted to meet the requirements of the client. The solution Delmeco provides is a flexible, safe and tide solution for handling hoses. The key advantages are:
Time saving (faster loading)
Flexibility (used for a wide range of products)
Compact (multiple hoses in one construction)
Reliability
Safety
Ease of use
Delmeco HoseTowers
Delmeco has designed, delivered and installed several hosetowers for various clients. Our installations are used every day in main ports like Rotterdam and other ports around the world.
Our own team of engineers will design the complete installation, including all drawings, strength calculations and automation. Our hosetowers are designed and built to meet the requirements of our clients. Delmeco can offer:
The complete mechanical engineering
The complete electrotechnical engineering
Construction of the (support) frames, loading platforms and equipment
Construction of the control panel
Assembly of all equipment
Factory Acceptance Test (FAT)
Transport to location
Installation on site
Site Acceptance Test (SAT)
Turn-key delivery
Maintenance and 24/7 service
Crane inspection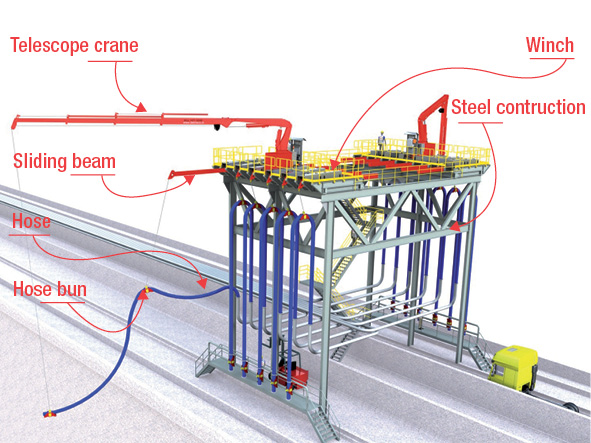 OPTIONS
Delmeco can also offer a variety of options:
Remote control
Operator room
Firefighting (equipment)
Lighting
Cameras
Drip tray
ATEX (EExd / EExi) certification
Maintenance / inspection
Also see our references.